11 Park Drive, Wyandanch, li 11798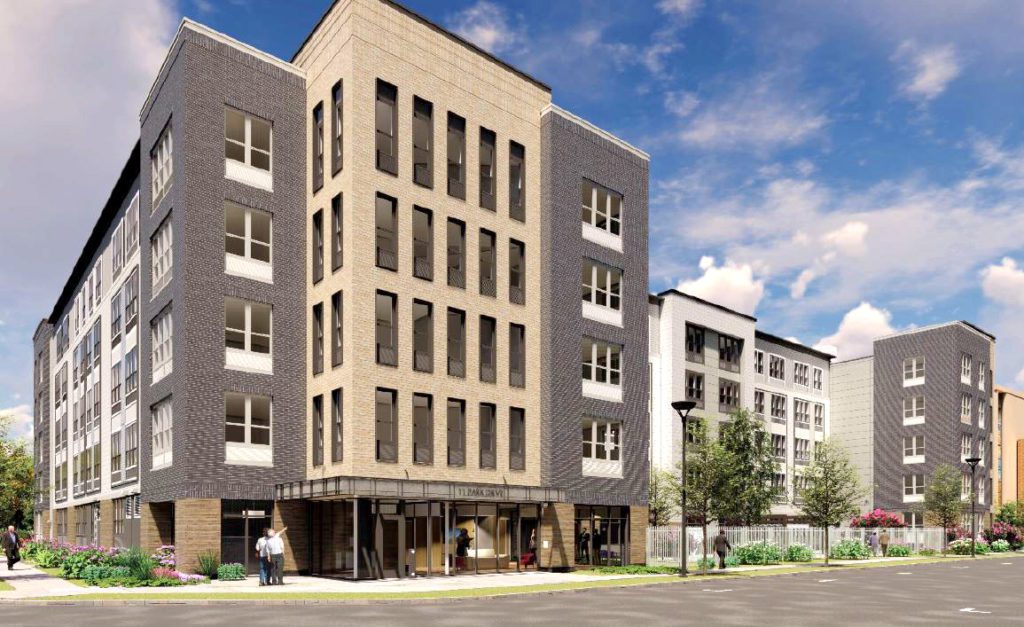 11 Park Place is the first senior building in Wyandanch Rising TOD redevelopment site, located in the Hamlet of Wyandanch, in the Town of Babylon, in Suffolk County. It is an all-senior, permanently affordable residence, providing 94 units of affordable senior housing to Long Island's low-income senior population with Selfhelp Community Services providing on-site services through SHASAM (Selfhelp Active Services for Aging Model). The development is a joint venture between the Wyandanch Rising's master developer, The Albanese Organization, and Selfhelp Realty Group.
Designed by the architectural firm Beatty Harvey Coco Architects, the design incorporates concepts that promote socialization and aging in place. The building is designed with community space at the ground level, including a large spacious lobby, a social service staff office suite, two flexible meeting rooms, a fitness center, and two restrooms. All of the large community spaces open directly onto a central recreational courtyard. A large laundry room and a convenience restroom are located on the second floor. In addition, the building surrounds and disguises an existing LIRR parking structure, wrapping it in unique apartments with 'eyes on the street'. Directly south of the building, a public park is being developed that incorporates a large pergola and space for art installations. The five-story building's design also incorporates green and energy-efficient features, in line with Enterprise Green Communities and Energy Star Multifamily High Rise programs.
Read about this unique development in the press:
– https://newyorkyimby.com/2022/10/affordable-senior-housing-project-debuts-at-11-park-drive-in-wyandanch-village-long-island.html
– https://libn.com/2022/10/06/ribbon-cutting-at-wyandanch-affordable-senior-housing-complex/
– https://www.governor.ny.gov/news/governor-hochul-announces-completion-40-million-affordable-senior-housing-development-suffolk