Join the Selfhelp Social Work Team
Apply today for the 2023-2024 MSW internship and scholarship program
Selfhelp Community Services has a rich history of supporting the field of social work through internship programs for graduate social work students. Selfhelp is training the next generation of social workers to serve New Yorker's older adults. 
We are accepting graduate-level social work interns for the 2023-2024 school year. MSW interns are eligible for a unique scholarship program for those who are interested in a career with Selfhelp post-graduation. 
Be a Social Work Intern at Selfhelp
Scholarship Program Details
Selfhelp Community Services will offer scholarships to 10 graduate-level social work students for the 2023-2024 academic year.
Scholarship Eligibility & Application Process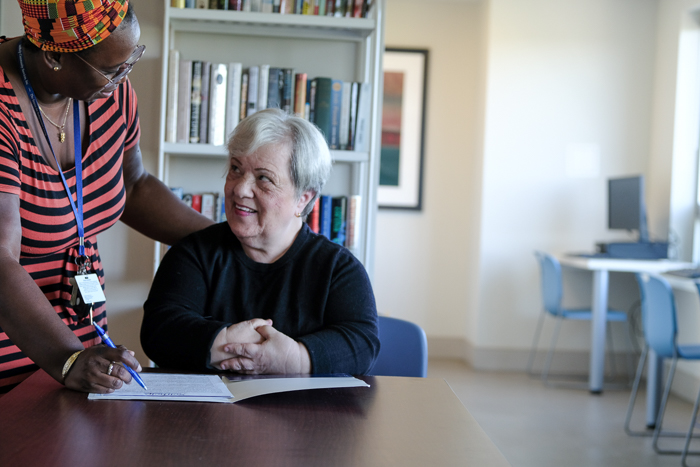 Applicants must be full-time graduate students at an accredited university, residing in the NYC area; preference will be given to students with a concentration in gerontological social work.
Applications are accepted on a rolling basis until August 18, 2023. Internships begin in the fall of 2023.
All applicants will be required to complete an online application with included essay questions to be reviewed by a panel of Selfhelp employees.
Selected applicants will be invited for an interview, after which ten students will be selected for the scholarship program.
Questions? Email the Social Work Internship Program Supervisor, Christella Tuldanes-Madiega, internship@selfhelp.net
Spotlight on Selfhelp Social Workers
My first-year internship for my MSW was at the Selfhelp Queens North Case Management Program. I remember when the NYU Silver School of Social Work field placement application asked what population I did not want to work with, I specified the elderly. Thinking back now, I had no reason for excluding older adults from my learning process and after a decade of working with the most diverse homebound older adults, I am so thankful I was placed here. I learned invaluable case management, communication, and time management skills at Selfhelp Queens North. After I graduated with my MSW, I was hired here as a full-time social worker and went on to be promoted to a supervisor mentoring other prospective MSW students. Now, I cannot imagine not working with older adults!
Megha, LMSW
Social Work Supervisor Selfhelp Queens North Case Management Program
"As a career changer and someone new to the field of social work, I felt that my internship at Selfhelp was the ideal learning experience. I had the opportunity to not only coordinate matches between volunteers and older adults, but also became a friendly visitor and virtual group facilitator. Though I was initially anxious about awkwardness, the clients' experiences were so varied and fascinating, and I truly learned what it meant to stay in the moment and provide client-led services. I was able to lean on the patient guidance of my supervisor and the Queens North case managers and learned how to be more reflective of my own thoughts, words, and actions as a social worker. My time with the Friendly Visiting team at Selfhelp Queens North has been invaluable to my development! "
Jacqueline
Former Social Worker Intern
I was an intern at Selfhelp Kensington Case management program to pursue my BSW 18 years ago. I was hired as a case manager after I graduated. I am grateful for working at Selfhelp as they provide many opportunities, trainings and promote within. My former and current supervisors are a great mentor, and I am thankful to have supportive supervisors to help me growth in my career.
Fen, MSW
Program Director, Queens North Case Management Program
Internship Placement Areas
Under the supervision of a Seminar in Field Instruction (SIFI)-certified Social Worker, the Master of Social Work Intern is responsible for providing support and assistance to older adult clients in New York. Intern responsibilities may vary, according to the department they are placed with, including these 8 program areas:
Case Management
NORCs (Naturally Occurring Retirement Communities)
Older Adult Centers
Community Guardian Program
SHASAM (social work in affordable housing)
Holocaust Survivor Program
Friendly Visiting Program
Virtual Senior Center
Below are details of each area, including responsibilities and locations.
Voices from our Community
For 87 years Selfhelp has been serving the most vulnerable among us. Today, Selfhelp provides a broad range of services for more than 25,000 older and vulnerable New Yorkers each year while remaining the largest provider of comprehensive services to Holocaust survivors in North America. We are a trusted advisor and leader in aging services. Our overarching goal is to help our community live with dignity and independence.
Graduate-level social work students will have the opportunity to learn from expert practitioners and to work with clients who reflect the diversity of New York City. Selfhelp specializes in providing culturally competent care to older adults from throughout the world.
Read more about our history here and click here to read our 2022 Report to the Community.