Innovative Intergenerational Program
Bringing together Holocaust survivors and high school students to elicit, expose, and memorialize the moving stories of survival. Through the lens of the survivors' stories, group members explore issues of war, loss, and trauma, while at the same time forming deep and meaningful relationships that dissolve the barriers between generations.
Views of the 2023 performances
Calling all
High School Students and College Freshman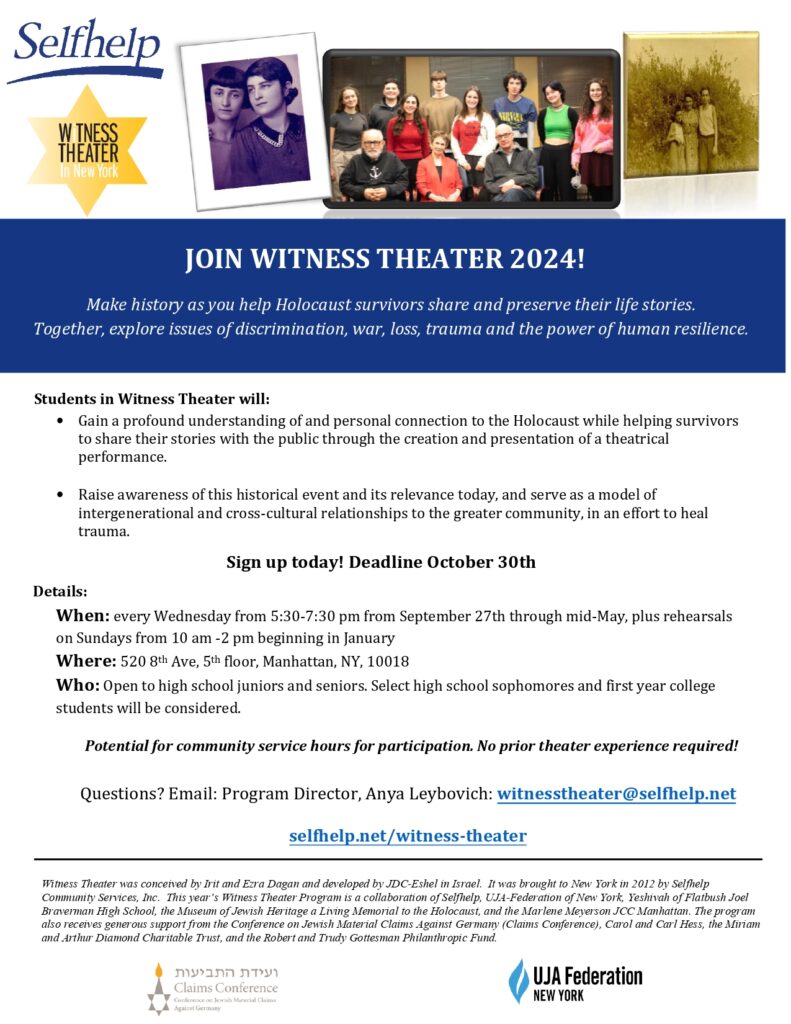 Sign up today to join a unique experience to get to know Holocaust survivors and bear witness to their story of survival.
Apply today to join our Manhattan group!
Apply by emailing: witnesstheater@selfhelp.net
Sign up by October 30th, 2023
Student Reflections on Participating in Witness Theater
Witness Theater was conceived by Irit and Ezra Dagan and developed by JDC-Eshel in Israel. It was brought to New York in 2012 by Selfhelp Community Services, Inc. This year's Witness Theater Program is a collaboration of Selfhelp, UJA-Federation of New York, Yeshivah of Flatbush Joel Braverman High School, the Museum of Jewish Heritage a Living Memorial to the Holocaust, and the Marlene Meyerson JCC Manhattan.
WITNESS THEATER: THE FILM
Witness Theater: The Film and Study Guide are powerful tools aimed at teaching the lessons of intolerance and bigotry to middle and high school students.
Take a look behind the scenes into Witness Theater's year-long therapeutic journey. You will see stories of loss, struggle and lives rebuilt and the healing power of inter-generational relationships. This moving documentary, currently shown at film festivals across the country, is about the power of connection, friendship, and love between generations. It is also about healing, to the extent possible, in the context of the most brutal genocide in human history. Learn more about Witness Theater: The Film at www.witnesstheaterthefilm.com.
Witness Theater: The Film is based upon Selfhelp's Witness Theater program. Filmmaker Oren Rudavsky, distributor Menemsha Films, and a number of individual and organizational supporters including UJA-Federation of NY, have joined in this feature length documentary that serves as a behind the scenes look at a nearly yearlong relationship between students and survivors.
Witness Theater: The Film is distributed by Menemsha Films.
Email Menemsha Films to schedule a screening of the documentary for your community.
HELP EDUCATE FUTURE GENERATIONS
Selfhelp is dedicated to remembering the Holocaust and raising awareness of the survivor population still in need today. Through creative educational initiatives, we're ensuring that the memory of the Holocaust will not be forgotten by generations to come. Help us educate future generations about the Holocaust.