We are proud to share our 2022 Report to the Community, Connecting the Dots.
You'll meet four members of our Selfhelp family: Antony, Berty, Huntley, and Estelle.
Their backgrounds and stories are quite different, yet they share a common thread: the desire to live independently with dignity in their own homes. Thanks to Selfhelp's comprehensive network of programs and services, we are helping to make that possible for each of them, along with over 25,000 older adults who rely on us each and every day. Selfhelp is there every step of the way – Connecting the Dots of care.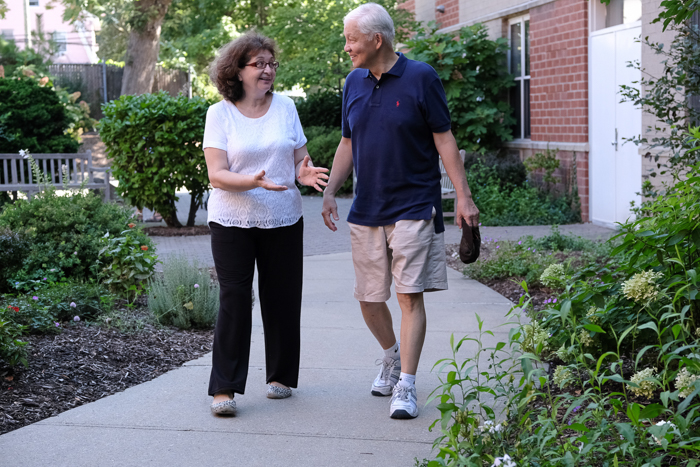 With 48 programs throughout the boroughs and Long Island, it's no secret that Selfhelp's services reach far and wide. But one may not realize how they seamlessly intertwine and connect with one another. The linkages between our plethora of programs and services enable us to offer our clients a complete continuum of care as they age, allowing them to remain independent in their own homes.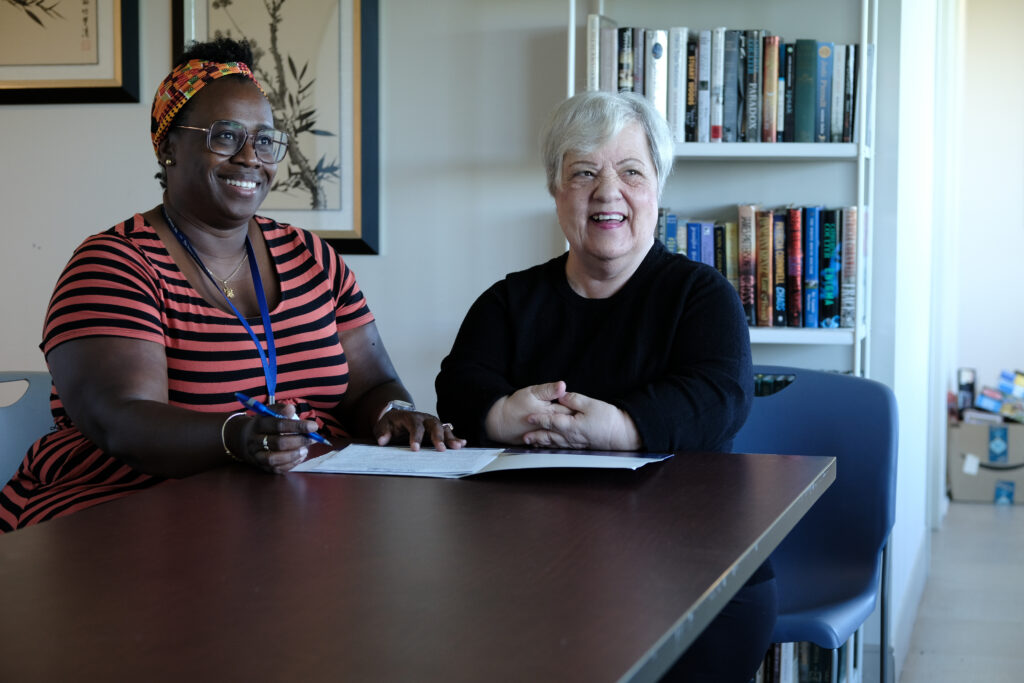 Seeking to improve his living conditions, 71-year-old Antony Yin moved to Selfhelp's affordable housing in Queens with his wife five years ago. An active individual, Antony appreciates his home's close proximity to Selfhelp's Benjamin Rosenthal-Prince Street Innovative Senior Center, where he participates in a variety of educational and wellness activities.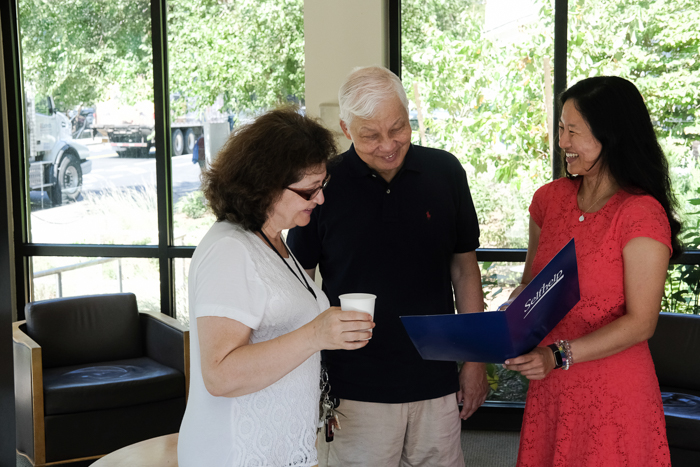 Selfhelp operates five robust Older Adult Centers (formerly Senior Centers) in Queens, providing educational, recreational and wellness activities to over 7,000 individuals each year. At his local center, Antony enjoys eating lunch, playing ping pong, doing Tai Chi, and socializing with his peers. He also teaches an introductory computer class.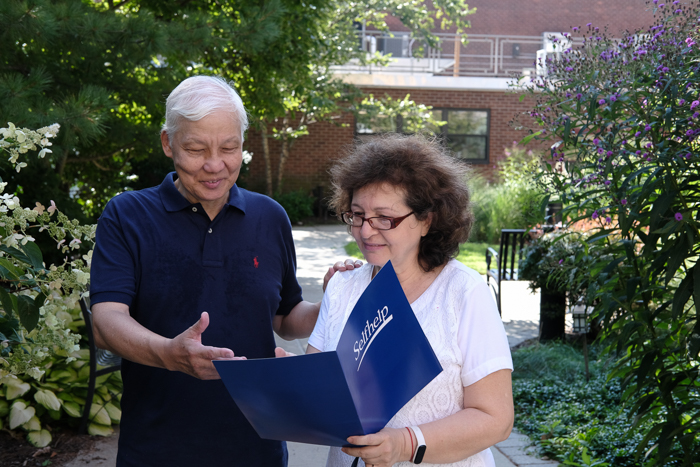 Selfhelp operates seventeen affordable housing residences for 1,500 older adults, with four buildings in development. Selfhelp's very first affordable residence, The Helen R. Scheuer House, was built in the 1960s to provide housing for aging Holocaust survivors.
Recent renovations and modernizations make it a wonderful place to call home for 175 older adults of diverse backgrounds, including Antony. With Julia, a social worker, based in the building to help residents, Antony feels well supported, and volunteers at the front desk as a way to give back.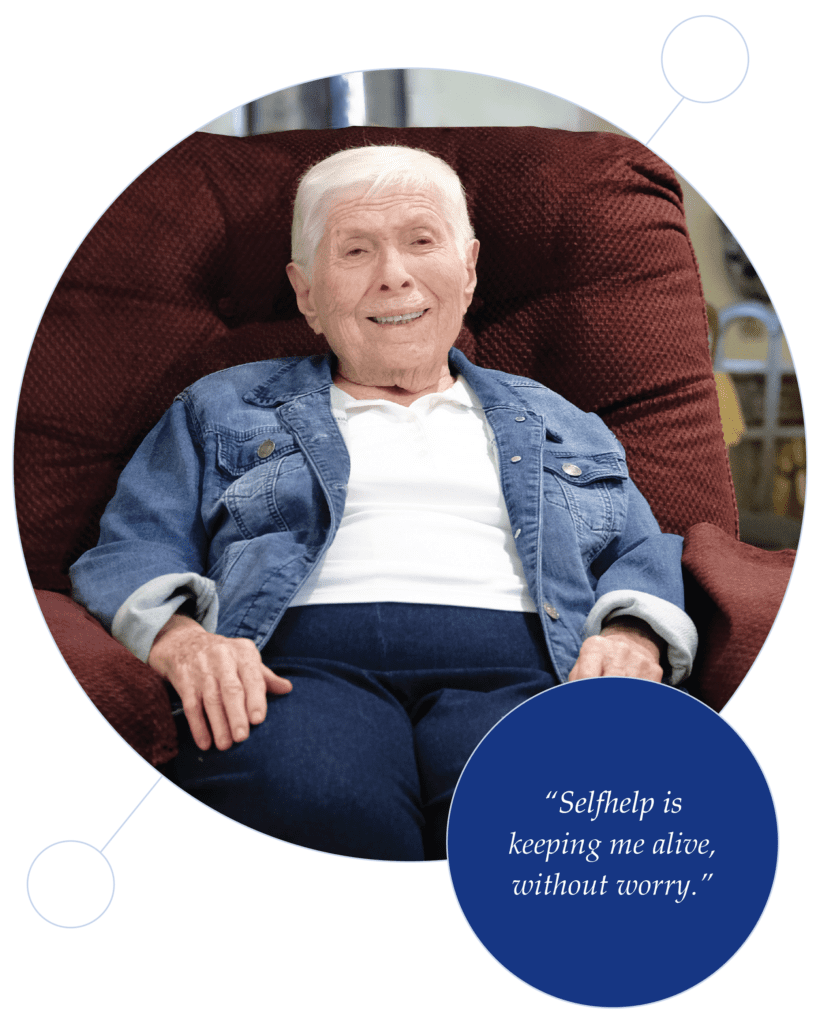 A 90-year-old Holocaust survivor from Vienna, Berty Kreisler knows what it's like to lose everything. Having endured the unthinkable as a child, Berty indeed deserves to live with comfort and dignity in her older years. With Selfhelp's assistance, Berty lives a vibrant life on Long Island with the help of people who care.
Holocaust Survivor Program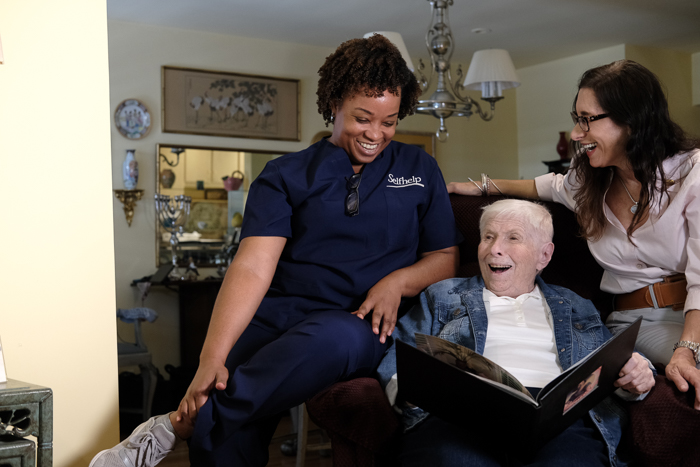 Selfhelp serves over 5,400 Holocaust survivors annually, offering a full spectrum of care. Berty's social worker, Julie, ensures that she receives all the benefits to which she is entitled as a survivor, including financial assistance. When her washing machine broke, Berty received a new unit through Selfhelp's Emergency Financial Assistance Program. She has also received help with food and utility bills. For Berty, Julie's help is priceless, expressing "Julie is my lifesaver."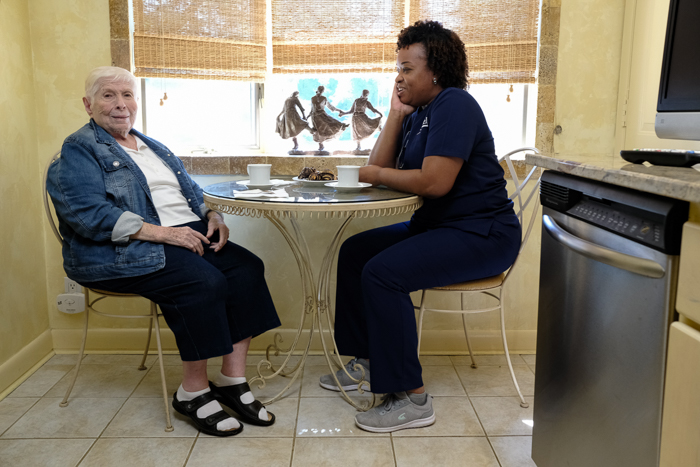 Selfhelp delivers over two million hours of home care annually and trains new home health aides on the sensitivities of working with Holocaust survivors. Berty receives 8 hours of home care a day from her home health aide Patoria, whom she adores. Pat helps her get dressed, shower, and live comfortably in her own home, even enabling Berty to host Mahjong twice a week for her friends!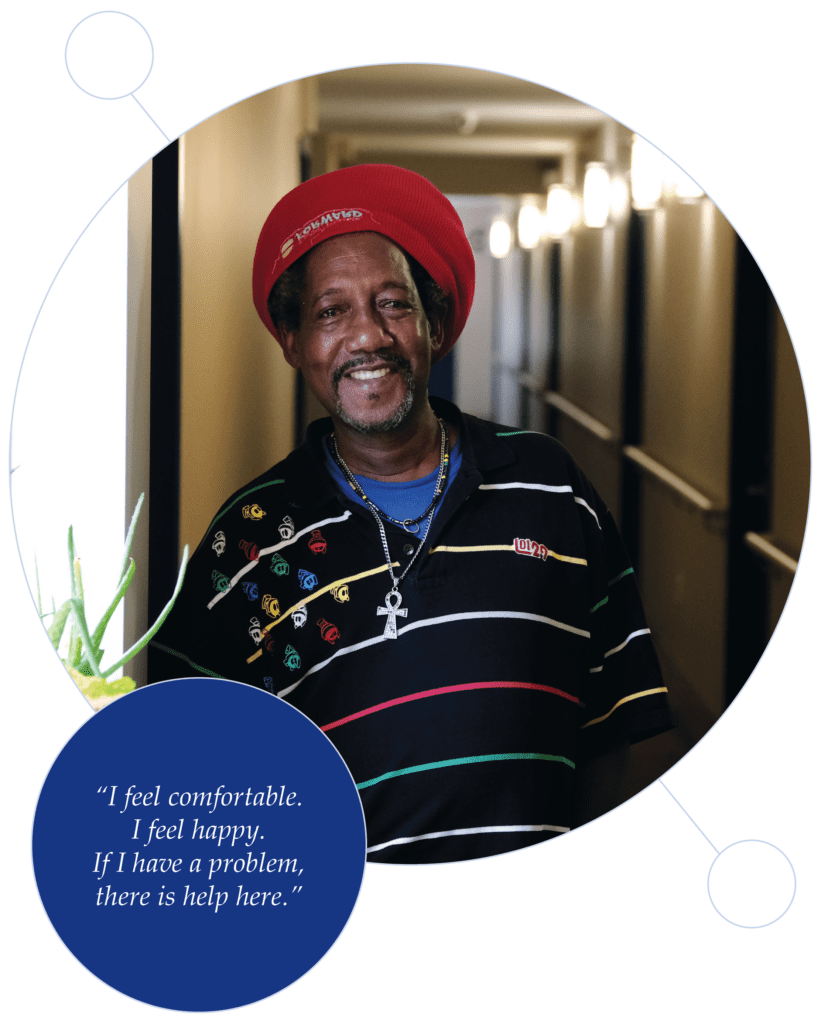 Originally from Jamaica, Huntley Francis came to America in hopes of a better life. But as the years passed, Huntley fell on hard times, losing his live-in position in a rental building. Homeless, Huntley spent two long years in a Brooklyn shelter – that is, until he moved to Van Cortlandt Green, Selfhelp's affordable housing residence in the Bronx.
AFFORDABLE HOUSING FOR THE FORMERLY HOMELESS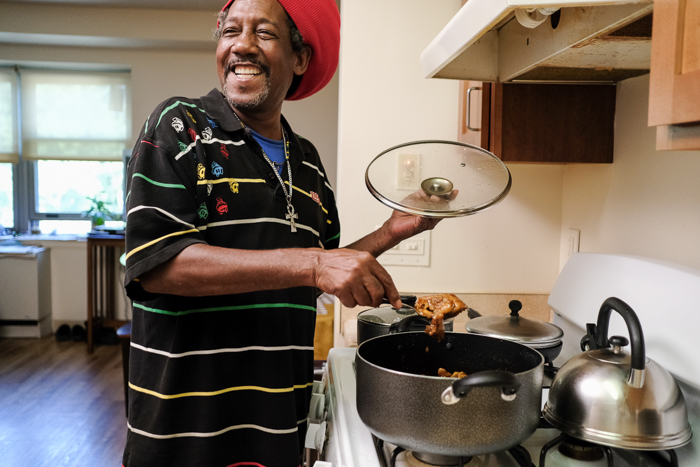 Several years ago, Selfhelp began to integrate formerly homeless individuals into our affordable housing. The program's success has been life-altering for so many, including Huntley. Huntley has lived in Selfhelp housing for over a year and is thrilled to have a comfortable place to call home. He loves cooking his native Jamaican food in his own kitchen.
SHASAM (Selfhelp Active Services for Aging Model)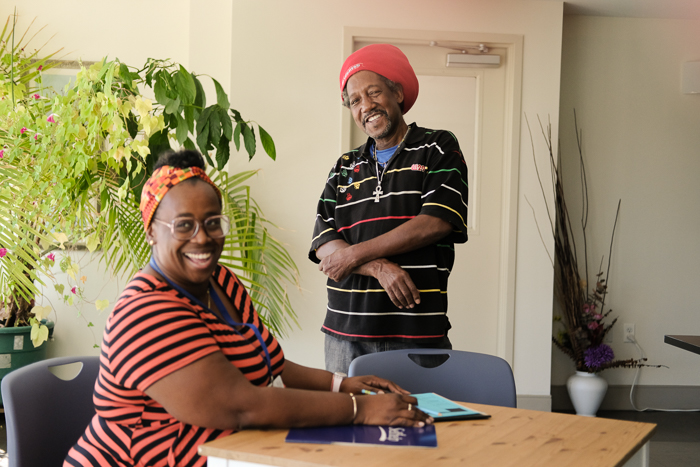 It's essential that our residents not only have a place to live, but a place to thrive. SHASAM is our unique approach. With a social worker on-site to assist residents with a variety of needs, less than two percent of residents in Selfhelp's buildings ever have to be transferred to a nursing home. Huntley meets with his social worker Shana regularly, receiving assistance with his complicated green card paperwork. He also enjoys the nutrition classes offered weekly.
91-year-old Estelle Price has lived in her Queens apartment for over 35  years. Once an active member of her local senior center, she regularly walked the mile route from her home to the facility to participate. But when a surgery left her homebound 12 years ago, Estelle turned to Selfhelp for support.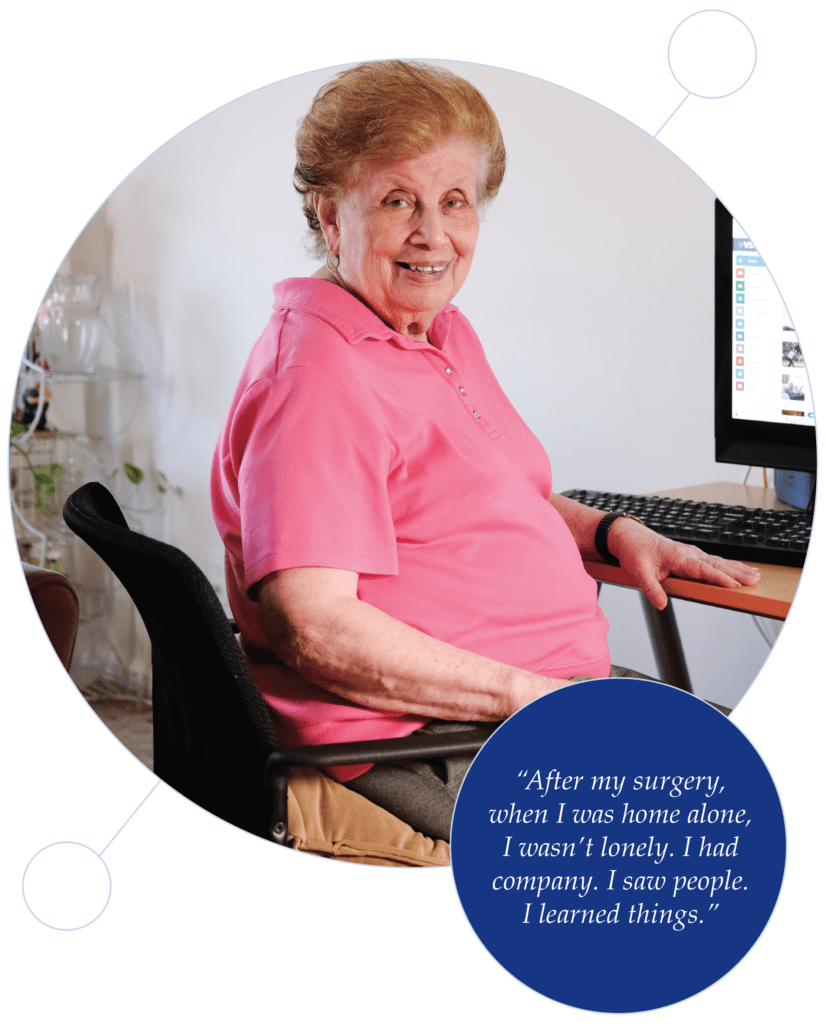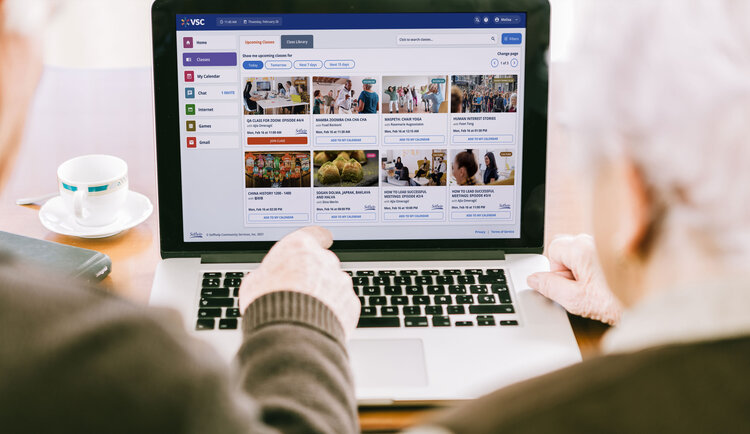 Selfhelp's Virtual Senior Center connects homebound older adults to the community through live, interactive online classes. Back in 2010, Estelle was one of the first participants on the Virtual Senior Center. To this day, she looks forward to logging on each morning to schedule her classes for the day. Her favorites are history and literature.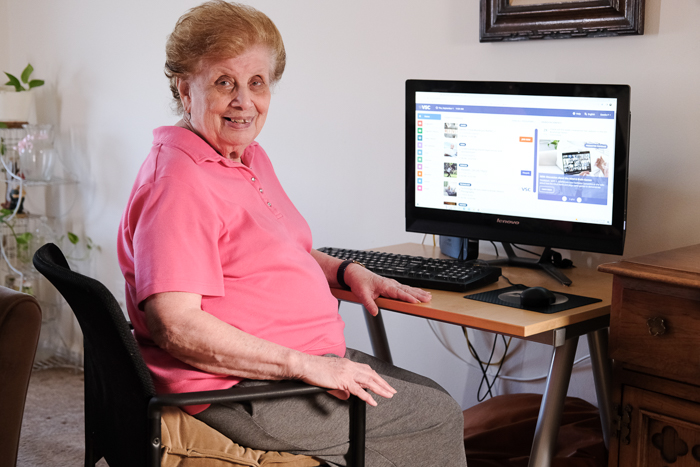 Selfhelp's four case
management programs provide
expert assistance to seniors in accessing benefits and entitlements, like emergency financial assistance, home delivered meals, and chore services. Being homebound, Estelle's social worker arranged for her to receive Meals on Wheels. And during the pandemic, her social worker checked on Estelle regularly, offering assistance with anything she needed, including securing appointments for her COVID vaccines.
Selfhelp is a not-for-profit organization dedicated to maintaining the independence and dignity of seniors and at-risk populations through a spectrum of housing, home health care, and social services and will lead in applying new methods and technologies to address changing needs of its community. Selfhelp will continue to serve as the "last surviving relative" to its historic constituency, victims of Nazi persecution.
A Banner Year for Selfhelp
Holocaust Survivor Program: Operating the oldest and largest comprehensive program serving Holocaust survivors in North America. Supporting 5,400 survivors
Community-Based Programs: Caring for thousands of New Yorkers, with assistance accessing benefits and entitlements, case management, virtual and in-person social events, and more. Connecting 16,000 older adults
Home Care and Home Care Training Programs: Providing caring services that keep people safe at home, while training the next generation of caregivers. Caring for 1,485 people | Training 250+ caregivers
Real Estate and Housing: Providing affordable housing plus services through Selfhelp's Active Services for Aging Model (SHASAM), which offers social work services to support the health and wellness of residents aging in their own homes. Housing 1,500 New Yorkers
We concluded a strategic planning process which will guide our work over the next 3-5 years to best serve the needs of our community.
We marked Selfhelp's 85th Anniversary with a landmark International Conference, Resilience, Adaptation and Innovation in Holocaust Survivor Services. Nearly 500 professionals joined virtually from the United States, Canada, Israel and Europe.
The Virtual Senior Center was the proud recipient of the Consumer Technology Association Foundation's John and Jane Shalam Award to Combat Social Isolation.
Using Diversity, Equity & Inclusion (DEI) principles, Selfhelp introduced trainings, policy revisions, Employee Resource Groups, evaluation, and more – all with the goal of actively improving staff experiences.
We launched an Adult Protective Services Program, providing services and support to enable vulnerable individuals to live safely and independently.
On June 1, the Selfhelp community came together for our 2022 Gala – our first in-person event since 2019! We raised in excess of $1.5M, welcomed over 500 guests, and paid tribute to our outstanding honorees – Richard Scharf, Dana Golding & Family, and René Plessner. Lori Stokes, former anchor at Fox 5, graced our podium as Mistress of Ceremonies, and we welcomed special speaker Oleksii Holubov, Consul General of Ukraine.
Witness Theater performances reached nearly 3,400 people through virtual and in-person events, with students and survivors from Manhattan, Queens, Brooklyn, Staten Island, and Long Island.